It is a great advantage to establish a strong and well-implemented ERP system. If we can create an 'ERP Pyramid Model' just like Maslow's 'Needs Hierarchy', which categorizes human needs, we can build successful projects with stronger foundations.
Maslow's "Needs Hierarchy" is a theory created by Psychologist Abraham Maslow to study the needs of people. Maslow has divided human needs into 5 main categories (physiological, safety, social, respectability, self-realization) and explained the relationship between them. According to Maslow, firstly, it meets the needs at the lower levels and then progresses to the needs at the upper levels step by step. The Needs Hierarchy is still used as a theory that explains people's motivation sources and behavior.
Inspired by this theory, we can create an "ERP Pyramid Model" to help businesses approach ERP systems. Applications hosted by ERP (Enterprise Resource Planning) systems work-integrated and connected. The majority of these links are in the horizontal hierarchy, while some require vertical progress.
We can describe this structure as levels rising above each other, resembling the steps of a pyramid. Typically, it cannot be moved to the next level without meeting a lower level of requirements and criteria. A healthy ERP adaptation and project progress will not occur if it continues to the next level without meeting the lower-level requirements.
Let's summarize the 6-level ERP Pyramid in the following headings.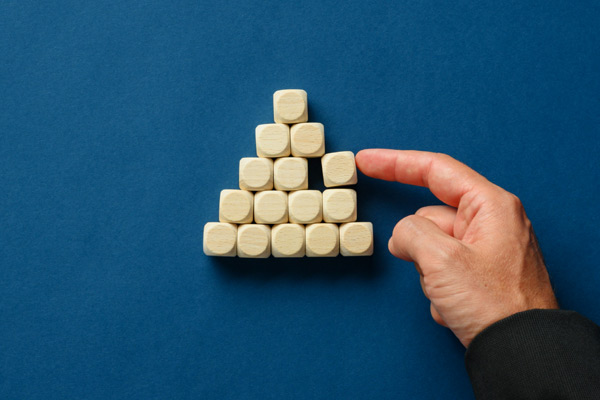 Level 1: Concepts & Standards
Located at the lowest level of the pyramid, this step also covers the most space. This level does not include an ERP module or application, it represents the approach of more businesses to the ERP philosophy. The components of the first level that shoulders a full load of other digits rising exponentially are:
All departments in the business have ERP awareness and basic concepts.
Task shares in the organization are specific and defined.
Uncovering current functions, process steps, and needs.
Having a project team and key users to take part in ERP transformation
Of course, all the above components don't have to be perfect. Some components will be better understood at progressive levels and will be further deeper across the business. However, the apparent weakness or lack of components at the first level will cause disruptions as they move forward at later levels.
Level 2: Basic Data
Basic data are elements that provide input to all applications in the ERP system. The basic data needed to create documents/records in ERP modules are mandatory for the effective operation of the system. For example; to create a "Purchase Order" in the system; material basic data, supplier information, purchase price, etc. are needed.
The main categories of Basic Data in ERP systems are:
Material Basic Data (raw material, semi-product, product, commercial material, etc.)
Customer & Supplier Basic Data
Cost (Expense) Centers
Production Work Centers
Product Trees (BOM)
Production Operations and Routes
Warehouse & Stock Place (Shelf) Definitions
Sales & Purchase Price Lists
The design, editing, and management of basic data are some of the critical success factors in ERP projects. Basic data designed incorrectly or incompletely transferred to the system will adversely affect the operation of all other modules. In order to proceed firmly towards the next steps of the pyramid, basic data must be properly designed and managed.
Level 3: Main Processes
At this level, we can now start running modules in the ERP system. The main processes are mainly modules within the classic frame of ERP. Identification, adaptation, process design, commissioning activities are carried out for each module. These processes are fed by well-designed basic data and the first returns of ERP are seen by commissioning the main processes. After this stage, our goal should be to achieve the benefits expected from the ERP system.
Examples of main processes (modules) for this topic are:
Sales Management
Purchasing Management
Accounting & Finance
Production & Planning
Quality control
Warehouse and Inventory Management
Level 4: Top Processes
The upper processes step includes basic data and advanced applications that are above the main processes. We can give examples of the modules commissioned at this level as follows.
MRP – Material Requirement Planning: To calculate material needs through the system; purchase, sales, inventory management, production modules must be actively in use and provide up-to-date information.
Standard Cost: For the standard cost that we can also qualify as an estimated or projected cost account; product trees, purchase prices, route operations, standard times, unit activity cost information is needed.
Supplier Assessment: To give our suppliers points and evaluate certain criteria; supplier cards, purchase orders, receipts, input quality control processes will be required. In addition, the calculation of "Realized (actual) Cost" requires data from other modules to enable the system to be traceable from start to finish, capacity planning, and further scheduling processes. Upper processes are structures that feed on the data formed in the lower steps of the pyramid and rise above them.
Level 5: Management Reports
Management reports and business intelligence applications, which are among the biggest benefits of ERP systems, are at level 5. Data created by all users is translated into interpretable information, summary reports, and a meaningful result. The reports required to realize this transformation are designed and made available to management teams. Reporting applications can be supported by "Business Intelligence" tools so that ERP has a "Decision Support System". Let's take a look at the following scenarios to better understand the relationship between getting management reports and other steps:
The barrier to reporting material inventory and amounts up-to-date may be a glitch for underlying data in the second step. To accurately calculate the costs that have occurred, it may be necessary to provide more detailed training to key users in the first step. The solution to getting an administrative report correctly can be achieved by eliminating inaccuracies in different steps. Sample output may be reproduced based on the data in the different components in the ERP system
Level 6: Continuous Improvement
"Maslow's Hierarchy of Needs" which we mentioned at the beginning of the article is valid for individuals and the top step is defined as "Self-Realization". The institutional structure of this level can be seen as the top step in which all the benefits expected from the ERP system are taken. Activities performed at this level are:
Control of the commissioned processes, process improvement studies
Control of the data generated in the ERP system and increasing the data quality
Commissioning the new processes and modules
Ensuring that the benefits gained from the ERP system are permanent
Detecting and correcting what kind of defects at which step should be seen as part of continuous improvement activities.
Solution:
An enterprise that is prepared for an ERP journey or wants to benefit from the existing ERP system more effectively can determine its targets and strategy more clearly by making an evaluation on the basis of these levels. Correcting the deficiencies in the weak steps of the pyramid is an imperative need to move up to the upper levels.
Establishing a strong and permanent ERP system can give the business a great advantage. Businesses should strive to build robust and constantly strengthening ERP systems, rather than building sandcastles that will be destroyed by the first sea wave.
Written By:
Kaya Metinkaya / IAS İzmir Consultancy Manager
The post 'ERP Pyramid Model' for a Successful Project appeared first on ERP News.