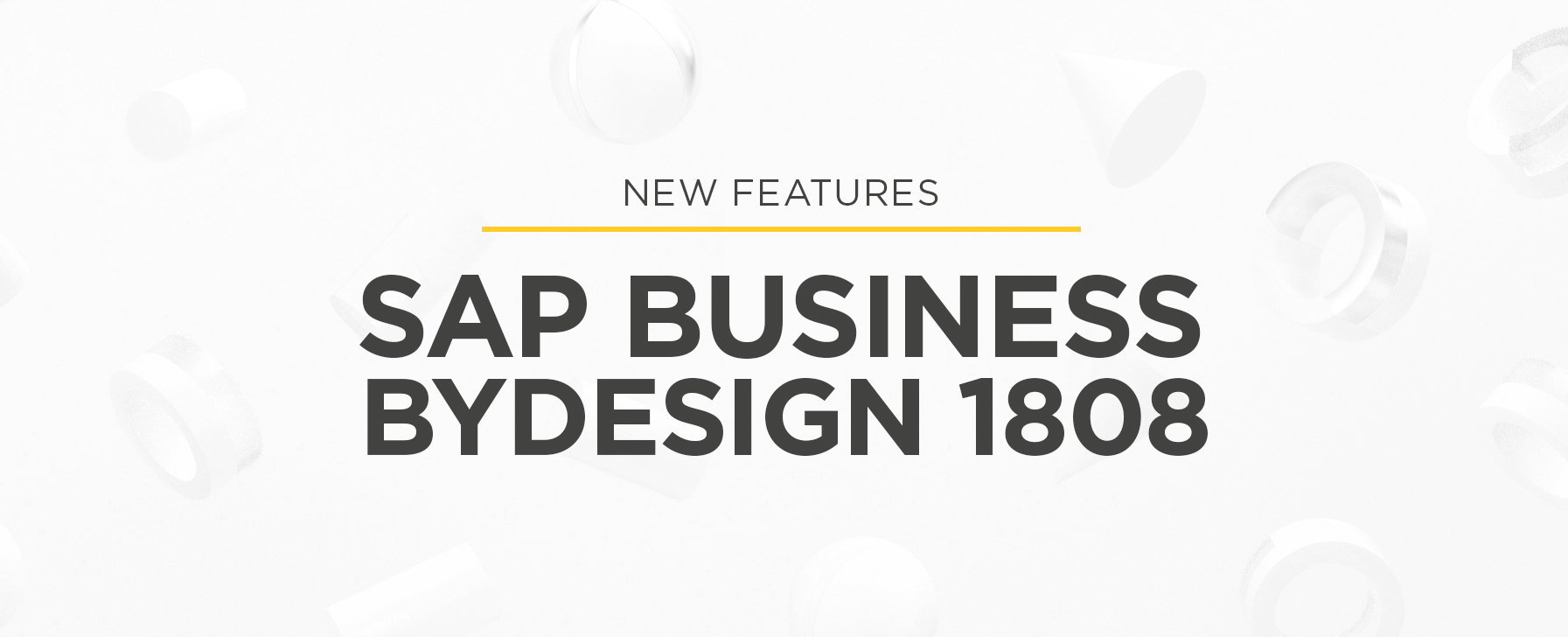 SAP ByDesign is here with its new features which will help its users in a much coherent way to manage their business processes. Below are the given modules on which SAP Business ByDesign 1808 has made its enhancements.
Financial Management
Improvements for payments, especially web shop scenarios.
New webservice for SEPA Direct Debit Mandates
Confirmation of External Payments – You can now pre-confirm External Payments through the Clearing House Statements.
Customer Relationship Management
Update Service Confirmations with non-billable indicator
Update Invoice Block on Service Confirmations
Enhancement to Customer Invoice Data Source
Outbound delivery reference ID in the Customer invoice item Data source
Maintain Contracts via Web Service
Create Service Order via Excel Template
Pricing Flexibility
Order of pricing tables in an Access sequence can be modified.
Enhanced and more flexible Lead status management
Project Management
Holidays in Gantt Chart
Personalization of Gantt Chart

Supply Chain Management
Product Cycle count – Automated Run
Additional Extension Scenarios
Product Requirement Specification Filter on Product Exceptions

Supplier Relationship Management
Update Existing Purchase Orders with New Purchase Requests
Built-in Analytics
Work center overview pages in new card design

Work center overview pages migrated to card design
Key User Adaptation of Work Center Overview Pages
Refresh rates for KPI and Reports defined by key user


Adapting Data Sources with New Fields

Add Missing Standard Fields
Enable Dates for Process Time Calculations


Improved Analysis Pattern in HTML5

Suspend Automatic Refresh on View Pane
Advanced Filtering in Selection Pane
Working with Dates and Date Hierarchies
Report – Report Navigation on Chart Elements


Improved Integration / Open Interfaces

Review OData Result with Button "Build OData Query"
Download of Code Lists
Localization
Mexico – Electronic Payments
USA – Tax Reporting under the CF/SF Program
Italy – Quarterly VAT and self-invoice registration
Spain – Immediate Supply of Information System (SII)
Japan – Incoming Remittance Bank Statement, Migration of Basic Employee Data
United Kingdom – Expense and Reimbursement Management
To know more in details, click here.
Now, you can easily integrate your SAP Business ByDesign ERP with other line of business applications to automate the business process!

You may also like:
7 Benefits of an Integrated ERP & CRM System for SMBs
7 Types of Data to Sync Between your ERP and Ecommerce
20 Ways ERP is Going to Evolve in 2018