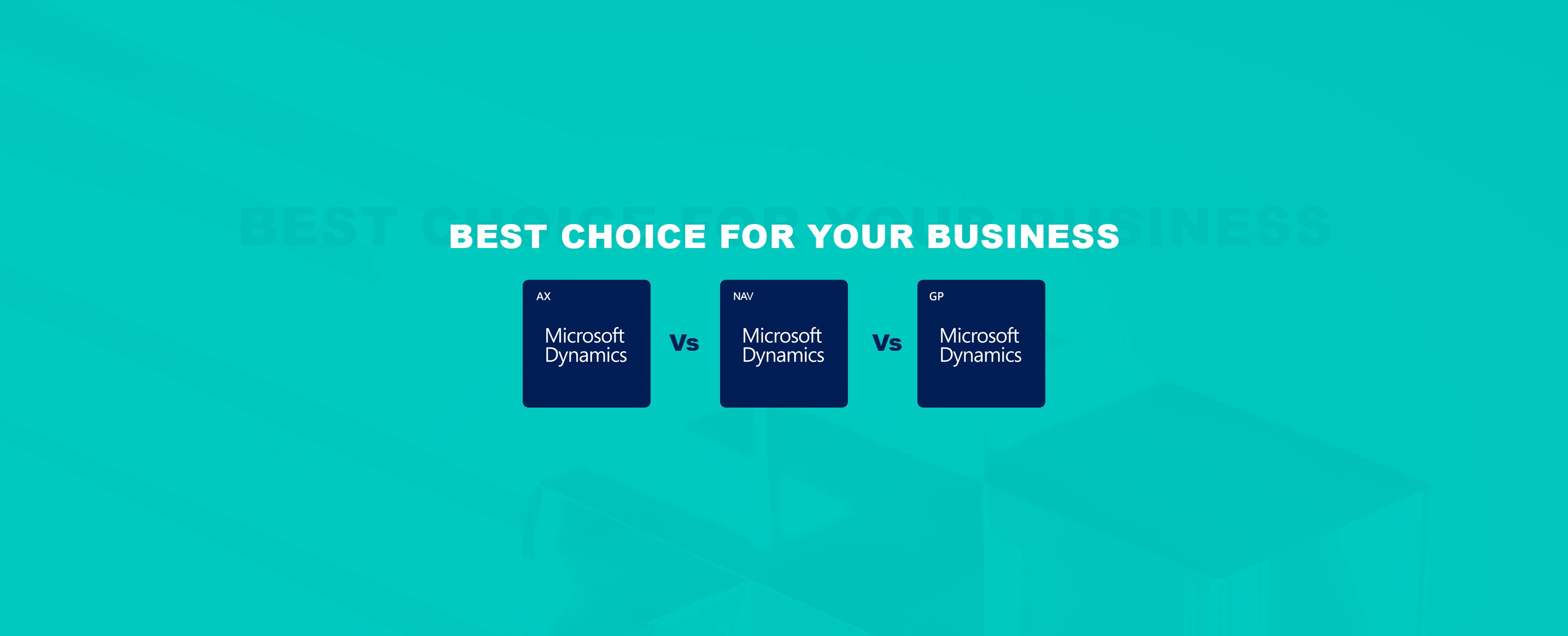 Microsoft ERP's are undoubtedly the most versatile and known for easy customizations. In the Dynamics family, clearly, the big name is Dynamics AX. Microsoft has the trump card 'AX' in the ERP segment, which easily competes with other big names like SAP and Oracle. A business owner is thinking about having one of these from the Dynamics series but confused about which one to choose. Continue through this blog which might help you to take the right decision and help your business grow bigger.
Dynamics AX is Microsoft's enterprise-level ERP and MRP solution and is most popular in the business tycoons.
Reasons For Choosing Microsft Dynamics AX for your Businesses :
If an organization is of an enterprise level and/or yearly turnover is nearly about 1 Million and employee strength is greater than 1000 then AX is the best choice since it is made to cater to these.
Dynamics AX is designed for the companies within the manufacturing, distribution, supply chain & retail industries.
It has great support with multi-country, multi-sites, multi languages and multi-currencies.

As a big ship, it has some cons too. Implementation time and cost are comparatively higher than other Dynamics ERP.
Often it would take a year-long and on-site implementation to work perfectly for your organization.
It has rich features and integration-friendly architecture.
Reasons For Choosing Microsft Dynamics GP for your Businesses :
Dynamics GP is a best of breed, off-the-shelf solution designed for the mid-level organization and for easy customizations.
Dynamics GP is a great solution for integration with other applications and eCommerce sites with the help of eConnect, Extender and many more other applications.

It is very much popular for faster implementation and implementations to have ISV which offers for independent software vendors or third party vendor products as a part of the total prepackaged solution.
Dynamics GP is best popular in North America. It has strong financial management than NAV and famous for distribution companies.
It takes very less time to implement and cost effective than any other from the Dynamics family.
Reasons For Choosing Microsft Dynamics NAV for your Businesses :
Dynamics NAV is very versatile in terms of customizing it.
It just suits perfectly with your business workflow without any hassle and with the help of small customizations.
Dynamics NAV is suitable for mid-sized companies but is also capable of handling enterprise-level organizations too.
The best part is the smooth UI, you know how much UI is important for the end-user and Microsoft implemented it in NAV perfectly.

It allows users to create and modify reports, forms, pages etc. Clearly, it has the best UI rather than other Dynamics ERP.
The new heir to the Dynamics NAV family is Business Central recently launched by Microsoft on-premise version and cloud version is limited to some countries.
NAV holds the upper hand in distribution and manufacturing, but lacks in financials to Dynamics GP and also requires extra time and effort to implement.
According to the business logic, requirements all of the Dynamics ERP's are good in terms of workflow, automation and integration. Microsoft's Global enterprise level ERP Dynamics AX fits in with big and large companies, whereas NAV and GP is the best fit for small and mid-level companies.
Now, you can easily integrate your Microsoft Dynamics ERP System (NAV, GP and AX) with Ecommerce Store or CRM to automate the business process!
You may also like:
Understanding The ERP Offering Under Microsoft Dynamics 365
How To Accelerate Microsoft Dynamics Deployments on Microsoft Azure
Introducing Microsoft Dynamics 365 Business Central