Now, more than ever, people are using search engines like Google to find local businesses. It's much easier and convenient to open Google or Google Maps and run a search for "flower shop near me" than drive around hoping to find one.
That's why it's so important to have your website show up on the web wherever your potential customers are searching for your business. So in this post, we'll share six simple tips you can implement today to start connecting with more locals who may be interested in buying from you.
1. Optimise for local search engine results
When someone goes to Google and searches for a specific local business, the chances are they aren't aware of your business or what you sell. Your potential customers are likely searching for terms like "carpet cleaners near me" or "dog groomers in Manchester".
So if you want potential customers to find you, you need to take steps to optimise your site for local search to increase your chances of showing up at the top of the search results when people search for your business.
Why is this important? Because searchers usually click on one of the first few results. So, even if you're a better dog groomer, offer better prices, or have more locations than your competitors, you can miss out on new potential customers because you're nowhere to be found in the search results.
There are lots of things you can do to improve your local SEO efforts and get visibility in the search results for local terms. Start by optimising your site using relevant keywords, creating more local content and trying to get your business to show up on Google Maps.
Check out these articles for tips on how to optimise for local search:
If that sounds overwhelming, try running a free SEO scan of your website. Our Search Engine Optimiser tool will return some recommendations on what you can do to get your business found at the top of the local search results.
2. Get included in article reviews for your area
Run a search for a well-known local business and you'll find at least a few "top 10" or "best in London" types of articles where that business is included. Here's an example of what shows up when searching for "top takeaway food in London".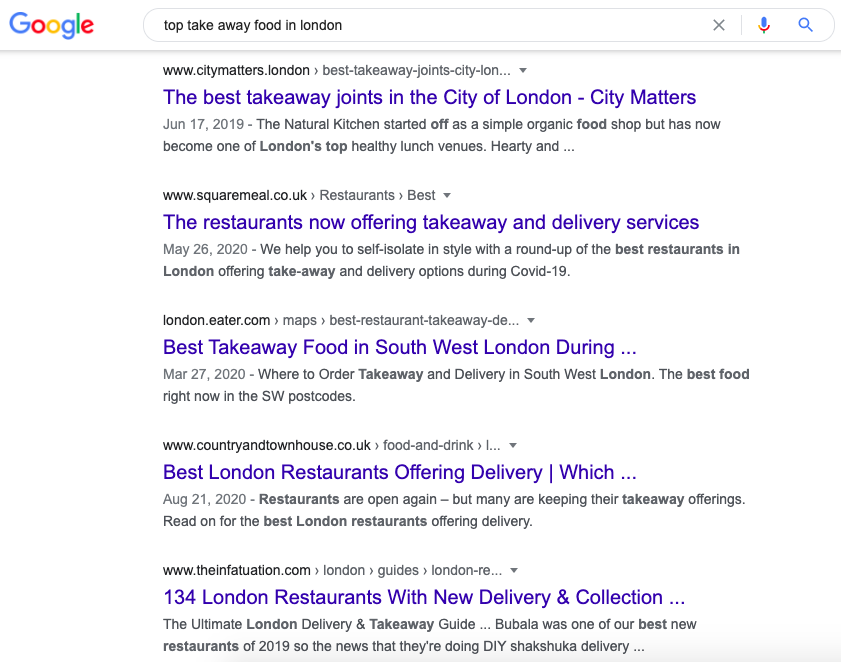 These lists are an excellent opportunity for your local business to be seen by people looking for what you offer. But how do you get on these review sites? You could hope that they notice you, but that hardly ever works.
Instead, do some research and see what top lists and article reviews show up when searching for your business or other businesses in your area. Your goal is to find gaps in the lists or opportunities for improvement.
If you find relevant reviews that don't include your business, reach out to the site owner and suggest an update that includes your business. If you stumble upon a great review site that doesn't have any articles about your type of business or industry, suggest that as a topic of interest. Then prepare a list of businesses that also includes yours and share it with the site owner. You'll not only be doing that website a favour by providing valuable information to their readers but you'll also be reaching more potential customers.
3. Show off customer reviews and testimonials
Few things are more important than what people are saying about your business online. In fact, most people take some time to research before buying a product or a service. A 2019 BrightLocal survey shows that an average customer looks at 10 reviews before they feel able to trust a business, and 97% of customers will read a business' response to reviews.
So, if you can show people that you're a local favourite, not just by the quantity and quality of the reviews but also by the way you respond to them, they'll be more likely to trust you and more willing to spend their money with you. So the next time you receive a negative review (rest assured every business does), make sure you take the time to respond and address the concerns as best as you can. Even a bad review with a great response can become a win for your business if you can show that you care about your customers' experience and finding ways to improve it.
Now, while plenty of people will share their opinions for free, if you're having trouble getting reviews, you can also try offering customers a coupon or a freebie in exchange for an honest review of their experience with you. Then show off those reviews on your website and social media.
Read these articles for some tips and advice on how to get reviews and how to use them to get more customers.
4. Build relationships with complementary businesses
Not every business is your competition. Some companies can become a great source of mutual referrals. So, if you own a wedding photography company, you could try building relationships with wedding DJs, florists, and everyone else in the wedding industry. If you sell homemade peanut butter, try connecting with jelly and bread makers in your area. When you start referring people to complementary businesses, they are likely to return the favour.
Start by creating a list of complementary products and services in your area, and reach out to the owners to discuss ways to promote and send each other customers.
5. Offer coupons and loyalty rewards
Giving away stuff for free or rewarding customers for their loyalty are great tactics to get more local people coming in and enticing them to come back. A pizza parlour that gives first-time customers a free slice will quickly become a local favourite.
Sure, offering a coupon might cost you a bit of money, but it can be something small if it proves the quality of your products or services, and people quickly realise you're their first and only choice for that product or service.
A loyalty card can also be a great way to get people to return to your business. A stamp card that gives customers a free coffee after ordering five is a low-cost way to build a habit and turn them into loyal customers.
6. Submit your site to local directories
Local directories are a huge source of traffic that you can't afford to ignore. These are slightly different from search engine results and review sites because the main priority of a directory is to provide information.
A local directory will show your business location, hours, photos, customer reviews, and contact info. Sure, it can be a challenge to submit your information and keep all of the directories updated, especially if you don't have a marketing guru on staff who can submit your business to relevant local directories and keep an eye on your listing to ensure it's accurate.
Fortunately, our Local Listing provides a hassle-free option to get your business to show up in local searches. We'll take care of submitting your business to local directories like Facebook, The Sun, Foursquare, The Evening Standard, The Independent, and more. This helps you show up on the web and get discovered by hundreds of local searchers who are looking for your business.
Wrapping up
If you're looking to attract more local customers, getting online and helping people find your website with ease on Google, social media, review sites, and anywhere else on the web is key to your success. Try the tips and advice on this article and see which ones work best at helping you to grow your online presence and connect with more local customers.
The post Six tips to get more local customers appeared first on Better business online: Tips, insight and advice.