How many times do the same people visit your website?
Unless you have an online shop, there's no reason for a prospect to visit your site more than once or twice. Once they buy from you, they're usually gone. And they won't come back anytime soon since they have no reason to.
A blog, however, gives prospects and customers a reason to come back time and again. Even if they're not planning to buy anything (more) yet, that doesn't mean they won't.
Consistent, purposeful blogging keeps your business top of mind so that when it comes time to make a purchase or offer a recommendation to a friend, it's your brand that they'll immediately think of.
In other words, if you're not blogging, you're leaving money on the table. Just look at these stats:
Many small business owners overlook the enormous rewards and opportunities that blogging can provide. But you know better, so you're not going to make the same mistake, are you?
In this post we'll look at why starting a blog is more important than ever and how it can help you to generate more business, earn more credibility and make it easier for prospects to find you online.
Build awareness and drive traffic to your site
If you're just starting out, the first step is to get your business known on the web. Blogging is a cheap and effective way to get your name in front of the people that matter to you – your prospects.
But even if you're not a new business, blogging can help you to reach more of your prospects and drive more traffic to your site.
Think of blogging like fishing. The more hooks you have in the water, the more likely you are to catch a fish. So when you publish a new blog post, it's the same as throwing another hook in the water.
The more quality, useful content you publish on your blog, the more pages Google and other search engines index. The more pages Google indexes, the more chances you have to rank high for various keywords and keyword phrases. (Here's how to optimise your blog posts, in case you don't know how.)
In other words, the higher your chances of being found online by prospects who are searching for answers or solutions to their problems on Google.
Now, keep in mind that it's not just the keywords you use that can help you to rank high on Google. The quality of your content is much more important.
Run-of-the-mill content won't cut it. You'll need to publish valuable, insightful, relevant content. That's the only way to make a lasting impression on your target audience (and Google, too).
Build authority and trust
Blogging gives you the fantastic opportunity to show off your expertise and skills, and become an authority in your industry.
So, instead of focusing on the immediate sale, make sure your blog posts focus on providing value to your readers, and on building a relationship with them by sharing useful information, inspiration, or entertainment that suits their needs.
When your blog becomes a source of value to your audience, one that they keep coming back to get useful advice, tips and answers, that's when you know you're on the right track to turning your readers into customers.
Here's the thing: it's valuable content that builds trust and a reputation for being the best in your field. So, if your prospects can use your advice to better their lives or solve a problem, they'll soon come to trust to buy whatever it is you're selling.
Give people a reason to choose you over your competitors
You know why people choose some brands over others? Because some brands know how to create content that connects with their audience on an emotional level.
So if you want people to fall in love with your brand, stop talking about features and facts and figures, and start showing off your personality and purpose. That's what makes your brand memorable.
Blogging is a simple and great way to show off your human side and personality, and to communicate your brand purpose, meaning what you stand for and what makes you unique.
How do you do that? By publishing useful blog posts that don't link to a product or service directly but instead demonstrate how your brand can facilitate the lifestyle that your prospects desire or aspire to.
For example, FitBit rarely blogs about their fitness trackers. Instead, their blog posts focus on helping, motivating and inspiring their readers to look and feel their best. That's what they stand for.
Even their blog categories have names like "feel good" and "be inspired", which is what they're trying to help their target audience achieve.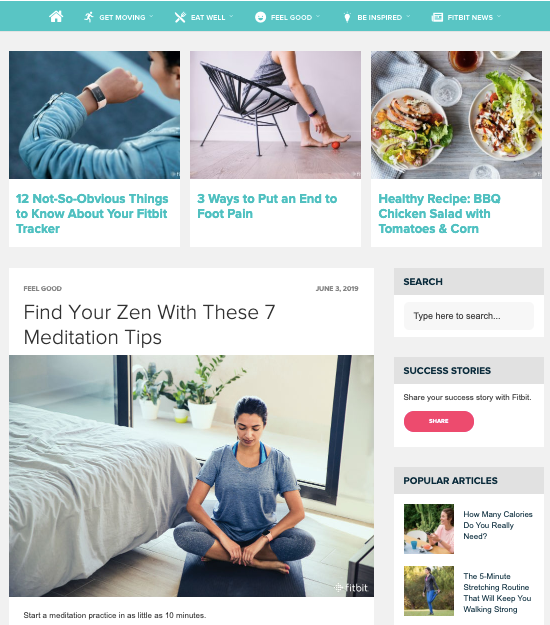 So, when you use blogging to communicate a brand purpose that goes beyond what you sell, it helps you stand out from your competition.
Stay active on social media
If you're using social media to engage with your audience, you probably know how important it is to be active and post on a regular basis.
Sure, you can share updates and information, and link to your products and services from time to time. But other than that, what else do you share?
You can't expect to build awareness and trust, and attract people to your site if you're only linking to what you sell or sharing content from other sites.
Thankfully, your blog gives you a great opportunity to not only stay active on social media every day but also to entice more people to visit your blog and website since you're sharing your own content, not others'.
Let's take a simple example. Say your business sells travel backpacks. A fan or follower may not need what you're selling when they see one of your blog posts in their feed.
But maybe three or six months down the line, they decide to take a trip somewhere. Maybe they don't have a travel backpack or maybe they decide they could use a new one. And yours looks pretty good.
If you've been busy sharing informative and/ or entertaining blog posts over the last several months, your brand will be fresh in their mind when it's time for them to buy a travel backpack.
Grow your mailing list
Your blog is one of the easiest ways to get more email subscribers and then nurture and turn them into customers.
But how do you turn a reader into a customer?
Let's say someone stumbles upon one of your blog posts, whether from a Google search result or some social media post. They click-through, read it and enjoy it. What next?
They might not immediately buy something or fill out a form to ask for a quote. But that doesn't mean they won't later on.
What's obvious though is that they liked what they read and they might want to come back to your blog to read more of your content. That is if they can remember your blog or website name. Most often, they don't.
This is your opportunity to make it easy for them to get your blog content straight into their inbox. So place a "subscribe" form on your blog and entice people to sign up to your mailing list.
Here's a simple example from the Tortuga Backpacks blog:

The next step is to keep sending them great content that'll make them think of you the next time they need one of your products or services.
If you're not yet using email marketing to build relationships with your prospects and entice them to buy from you, now's the time to get started. Take our free email marketing course to learn the basics.
Wrapping up
If you don't have a blog for your business, you need to start one today. You have no reason not to considering its great role in helping you to build awareness and trust, grow your mailing list and boost sales.
Sure, it takes time to generate a huge amount of traffic and sales, but once it does, you'll wish you had started today. So start today with our free training course on blogging and content marketing and learn how to write content that drives action and helps grow your business.
The post Why starting a blog is more important than ever appeared first on Better business online: Tips, insight and advice.