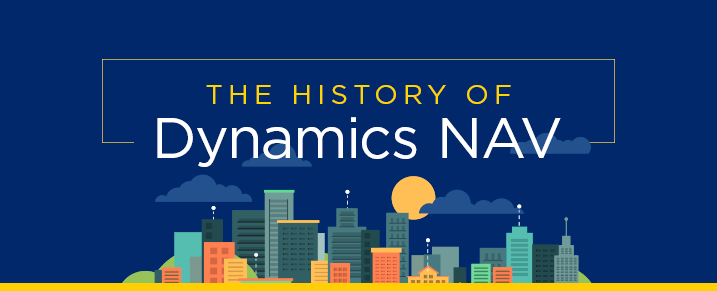 For any organization, an Enterprise Resource Planning software is an essentiality. Microsoft Dynamics NAV has been one of the most successful ERP systems and has helped numerous companies pave their way to success. It is best suited for small and medium-sized enterprises. Some of the worlds' ecommerce leaders owe it to Microsoft Dynamics NAV for their success.
Back in 1984, the company PC&C (Personal Computing and Consulting) was founded and the first ever single-user Navision known as PC-Plus was released.
It continued until the next version came in – Navigator 1.00, in 1987. It was the first multi-tier module of Navision which was released in partnership with IBM Denmark. In 1988 came Navigator 2.00 and finally in 1989 Navigator 3.00 was released with Navision becoming a global ERP solution.
In 1994, Navision 3.50 was released and just in a year's time, the first Windows version of Navision was launched – Navision Financials 1.00. During the time between 1995 and 1999, there were several releases of the Navision Financials module, namely –
Navision Financials 1.20 – 1996
Navision Financials 1.30 – 1997
Navision Financials 2.00 – 1998
Navision Financials 2.50 – 1999
In 2000, Navision Software merged with Damgaard Data and Navigator Financials 2.6 was released. As Navision became a part of the Microsoft Business Solutions in 2002, it released Navision Attain 3.01.
Microsoft Business Solutions Navision 4.00 was released in partnership between Navision and Microsoft and it was the last classic Navision Financials module or version. Later in 2008, a completely new, role-tailored client of Navision was released – Microsoft Dynamics NAV 2009.
2012 saw the growth in the application and released Microsoft Dynamics NAV 2013 which was a more functionally stable and efficient. A lot of new functional aspects were added to the module. As the growth continued, Microsoft Dynamics NAV 2015 was released in 2014 and was termed as the Modern versions of Navision.
In 2016, first came in Microsoft Dynamics NAV 2017; then came Microsoft Dynamics NAV 365 – for Financials – Business Edition; and then finally Microsoft Dynamics 365 Finance and Operations, Business Edition was released.
In 2017, Microsoft Dynamics NAV 2018 was released and later the Tenerife Business Solution module of Microsoft Dynamics 365 has been launched. It is currently the latest version of the globally successful and stable ERP Solution.
Here is the Infographic which shows the evolution of Microsoft Dynamics NAV ERP from PC-Plus in 1984:
Use this Infographic On Your Site
Now, you can easily integrate your Microsoft Dynamics NAV ERP with Ecommerce store, Marketplace or CRM and automate the business process!
You may also like:
Functionality Improvements in NAV 2017
Predictive Analytics using Cortana in Dynamics NAV 2017
10 Important Microsoft Dynamics NAV Features You Might Not be Using