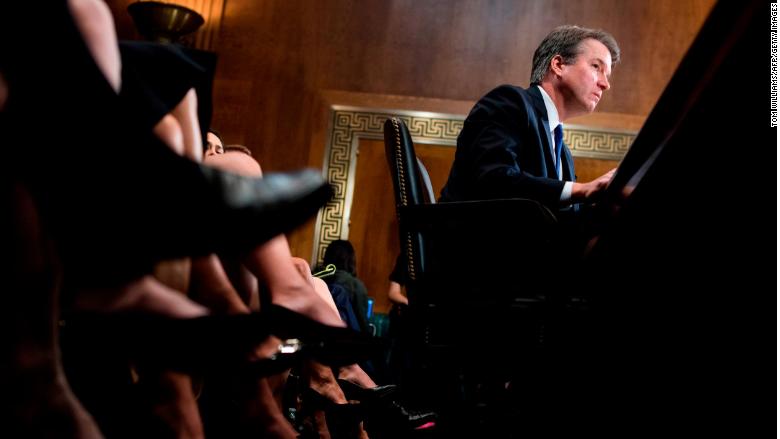 A version of this article first appeared in the Reliable Sources newsletter. You can sign up for free right here.
Time to vote?
The lead story for Thursday's morning shows: The impending vote to advance Brett Kavanaugh's nomination to the Supreme Court.
"This is it. They're going to go to vote," Chris Cuomo said on CNN Wednesday night. "The FBI report is all but done. Will it change votes? Probably not. Why? Time, tactics, the tenor of the whole process. This has never been a truth campaign — about 'getting to the bottom of the allegations.' It's about getting Kavanaugh through at any cost. It always has been."
Per CNN's latest, senators will be able to read the FBI's findings on Thursday morning. Mitch McConnell filed cloture on Wednesday night, setting up Senate Republicans for a Friday vote to end debate on the nomination. A final vote will not take place until Saturday at the earliest.
Meanwhile, here are the headlines…
— Banner on "The Situation Room" Wednesday evening: "White House denies Trump was mocking Kavanaugh accuser after Trump mocks Kavanaugh accuser."
— Ronan Farrow tweeted Wednesday night: "The FBI declined to interview primary witnesses related to the Kavanaugh allegations it was tasked with reviewing. Some of them resorted to sending in unsolicited sworn statements." Jane Mayer and Farrow are out with a new story…
— On CNN.com right now: "Yale roommate says Kavanaugh lied under oath about drinking and yearbook." James Roche spoke out via an op-ed for Slate and an interview on "AC360…"
— An example of the widespread conservative criticism of the news coverage: "You Idiot Reporters Are Making It Worse," by NRO's Jonah Goldberg…
Thursday planner
— Anti-Kavanaugh protests will take place in DC and other locales…
— Justice Stephen Breyer will be speaking at The Atlantic Festival in the morning…
— Trump has an afternoon fundraiser in Minneapolis and an evening rally in Rochester…
"Her lasting impact"
That's the message on this week's cover of TIME — to be officially unveiled Thursday morning.
"Using words and phrases from Ford's testimony, San Francisco-based artist John Mavroudis recreated her likeness by drawing each letter by hand," TIME says…
FOR THE RECORD, PART ONE
— There are deepening concerns about missing Saudi journalist Jamal Khashoggi, who entered the Saudi Consulate in Istanbul on Tuesday "to obtain paperwork related to his upcoming wedding" and "has not been heard from since…" (WaPo)
— Nicaragua has deported Austrian-American reporter Carl David Goette-Luciak, who had been covering anti-Ortega protests for months… (The Guardian)
— Eli Rosenberg's latest: "Facebook blocked many gay-themed ads as part of its new advertising policy, angering LGBT groups…" (WaPo)
Connie Chung: "I, too, was sexually assaulted — and it's seared into my memory forever"
Julia Waldow emails: Broadcast news legend Connie Chung published an extremely powerful letter to Christine Blasey Ford about her own experience with sexual assault, dating back about 50 years. Her assailant, she writes, was her family doctor. "Christine, I, too, am terrified as I reveal this publicly," Chung wrote. "I can't sleep. I can't eat. Can you? If you can't, I understand. I am frightened, I am scared, I can't even cry."
The letter was published by the WashPost. "I wish I could forget this truthful event, but I cannot because it is the truth," she wrote. "I am writing to you because I know that exact dates, exact years are insignificant. We remember exactly what happened to us and who did it to us. We remember the truth forever…"
FOR THE RECORD, PART TWO
— Two Fox News personalities have books on Amazon's top ten list right now: Tucker Carlson's "Ship of Fools" is No. 2 and Steve Doocy's family cookbook is No. 4. The forthcoming Trump parody book by "The Late Show with Stephen Colbert" staff is holding steady at No. 1…
— Meantime, the weekly NYT bestseller list came out on Wednesday, and Bob Woodward's "Fear" is No. 1 for a third straight week…
Read more of Wednesday's Reliable Sources newsletter… And subscribe here to receive future editions in your inbox…
— NYT opinion writer and editor Bari Weiss is writing a book: "The New Seven Dirty Words." Holt will publish it in winter 2020…
Barnes & Noble may sell itself
B&N fired its CEO a few months ago. Now its board has appointed a special committee to consider a sale. It is, as CNN's Nathaniel Meyersohn writes, a troubled company: "Sales have fallen at Barnes & Noble during each of the past four years. New tactics, such as smaller store formats and a kitchen concept, have struggled to win back shoppers." More here…
Bianna joins "CBS This Morning"
The CBS morning show has always had a three-person format… until now. Bianna Golodryga was introduced as a co-host on Wednesday morning, adding a fourth co-host chair to the set. The move makes a lot of sense: Golodryga is already on the show all the time as a fill-in host and/or correspondent…
BTW: "She will continue to work as a contributor to various CNN programs," Variety's Brian Steinberg notes…
CNNMoney (New York) First published October 4, 2018: 12:43 AM ET